Athugið: Sem stendur er mest notaða kvikmyndaplakat stærðin er það eina blað.: 27″ x 40″
Stærð Kvikmyndaveggspjalda hefur breyst mikið síðan um 1980 þegar fyrstu kvikmyndaplakötin voru dreifð.
Fyrstu kvikmyndaplakötin voru reyndar notuð sérstaklega fyrir leikendur sem myndu Sýna kvikmyndina og þurfa að koma til baka eftir notkun. Since then movie poster size has evolved in both color and dimensions.
Common old

stærð kvikmyndaveggspjalls

included

:

27 x 41″(One Sheet)
22 x 28″(Landscape)
14 x 36″(Portrait)
14 x 22″, (Window Card
41 x 54″,(Two sheet)
41 x 81″, (Three Sheet)
30 x 40″, 40 x 60″, Og 81 x 81″(Square)
Currently the most commonly used

stærð kvikmyndaveggspjalls

is the one sheet.

: 27″ x 40″
The one sheet is used in many homes across America and especially children's rooms as movie posters have become more mainstream and decorate many family's rooms. Many companies have sprung up with the sole work of selling movie posters to university students through residences and over campus!
The next most commonly used

stærð kvikmyndaveggspjalls

Er: 40″ x 60″

also known as the bus stop poster. This movie poster size comes in portrait format and is commonly used for, you guessed it! Bus stop's.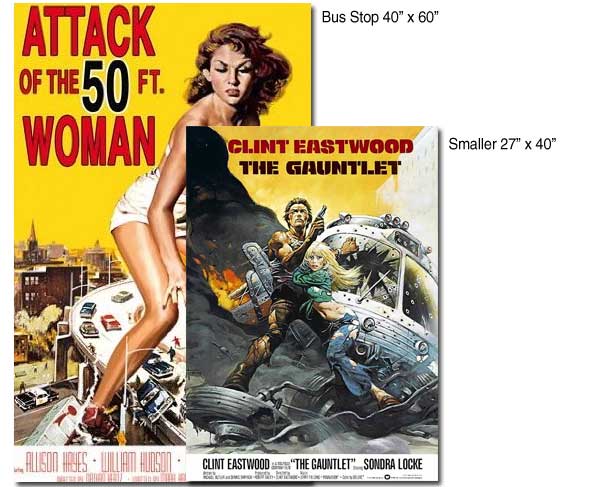 Sköpun þessara veggspjalda og fullkomnunar á notkun Movie plakat stærð er hægt að gera með mörgum stöðluðum prenturum þó verð geta verið breytileg eftir gæðum litarefni og ertu. Margir prentarar kunna að nota mismunandi gerðir lita eða geta krafist þess að hafa alla litina í sniði sem eru sértækir fyrir prentun eins og CMYK eða RGB gott snið til að nota við prentun veggspjalda væri að halda plakati í CMYK þegar þú byrjar að þroska og vista það í PDF forma t að varðveita gögn þess. Einnig vera viss um að viðhalda heilbrigðu magni af blæti í kringum brúnir háð bíómynd plakat stærð þannig að nauðsynleg stykki af the plakat eru ekki skera burt eftir prentun.
Fyrir frekari upplýsingar um stærð Movie plakat hika við að spyrja spurningu í athugasemdum hér að neðan….