Note: Currently the most commonly used movie poster size is the one sheet.: 27″ x 40″
Movie poster size has changed a lot since the 1980s when the first movie posters were distributed.
The first movie posters were actually used specifically for the theaters that would show the movie and required to be returned after use. Since then movie poster size has evolved in both color and dimensions.
Common old movie poster size included:
27 x 41″(One Sheet)
22 x 28″(Landscape)
14 x 36″(Portrait)
14 x 22″, (Window Card
41 x 54″,(Two sheet)
41 x 81″, (Three Sheet)
30 x 40″, 40 x 60″, and 81 x 81″(Square)
Currently the most commonly used

movie poster size

is the one sheet.: 27″ x 40″
The one sheet is used in many homes across America and especially children's rooms as movie posters have become more mainstream and decorate many family's rooms. Many companies have sprung up with the sole work of selling movie posters to university students through residences and over campus!
The next most commonly used
movie poster size

is: 40″ x 60″

also known as the bus stop poster. This movie poster size comes in portrait format and is commonly used for, you guessed it! Bus stop's.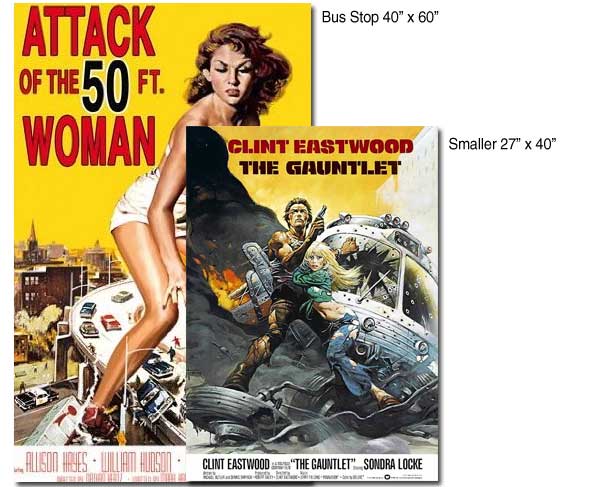 Creation of these posters and perfection of the use of movie poster size can be done by many standard printers however prices can vary depending on the quality coloring and pixelation. Many printers may use different types of color or may require you to have all your colors in a format specific to printing such as CMYK or RGB a good format to use when printing posters would be keeping the poster in CMYK when you start development and saving it in PDF format to retain its data. Also be sure to maintain a healthy amount of bleed around the edges dependent on the movie poster size so that essential pieces of the poster are not cut off after the printing.
For more information on movie poster size feel free to ask a question in the comments below….