Poster Board Size
I have been getting a few emails asking about standard poster board sizes and what is the standard poster board size so I've decided to post a researched response to the question.
Firstly I would like to iterate that the current standard poster board size for the largest printers and wholesalers it is in fact 22 x 28" HOWEVER there are some considerations to take in….
Now, a lot of issues with the standard poster board size is students that need a poster board for their project. 22 x 28 is in fact the standard poster board size but it will be too small for a trifold project.
For students doing a presentation a 36 x 48 tendered poster board size is recommended.
So again, reiterating that for a trifold 9 x 12 eight 46 x 48 standard poster size is ideal as a tip for the headline you can use a 14 to 16 point font and for regular text. You can use 10 to 11 point font for perfection.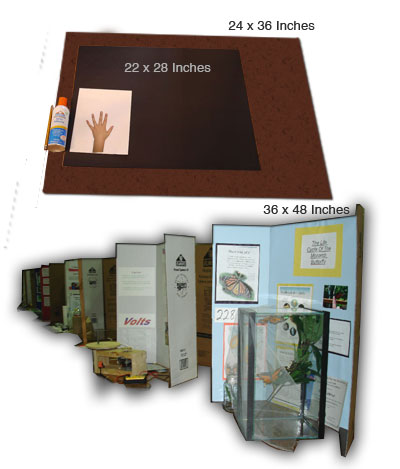 SMALL(standard) – 22 x 28"
Good for some display projects and showing off smaller displays.
Same Day Delivery 22×28 Poster boards On Amazon
MEDIUM – 24 x 36".
Good for some larger projects possible to trifold this and make a smaller, more portable presentation not recommended for larger student presentations.
Same Day Delivery 24×36 Poster boards On Amazon
LARGE – 36 x 48"
Perfect size for student presentations and presentation such as science projects, tradeshow displays, presentations.
Same Day Delivery 36×48 Poster boards On Amazon
Larger sizes.
Standard poster board size can differ and there are in fact other sizes that do appear that are larger. However, the sizes should be used at your own risk because they are in fact specialty sizes and much more difficult to handle due to how large they are. They can be used for different things such as trade shows and projects but will definitely standout.
How to prepare a poster board for a business project or science fair
When your dealing with a science fair project your usually required to use a poster board. Now alot of times a teacher will provide you the size you will need. But I have noticed that even teachers at most times are not sure of the actual poster board size you need. Usually for a science fair project or some other similar project such as a presentation the standard poster board size will be 48″x36″.
Usually you can find these boards online or you could head off to your local staples or Walmart. If you have an art supply store nearby that is also a great option.
Make sure your information is organized like a magazine would be, with the principle information and title on the top then the most powerful going top to bottom. The most powerfull point of the poster board is usually the top to middle due to the angle, so make sure the most powerful information you have is located there. Another great tip is not to include too much textual information. Too much textual information can be very burdensome for a readers, its better to display lots of imagery to retain the attention of the  reader.
Text and font: Make sure that your font size is large enough to be read by anyone. Some older readers may have trouble reading small font so a great recommendation here would be to use 16 point font or above. If your struggling to fit your text in you include in small font read more: sections. For things such as pictures and captions don't worry about a smaller font size you can get away with it. With regards to the title it should be something very large and easy to read if you with to include a little subtitle or description this can be an effective way to summarize what your project is about.Here is a guide of what fonts would be ideal.General: Keep with easy to use basic fonts such as Times New Roman, Arial etc try not to get too fancy we want to be able to see your work! Don't overuse italic text, this is a big no no. You can use italics for certain areas but don't make half your project the same. Do not use CAPS this will make your project difficult to read. Do not use cursive or any difficult to read text. Avoid text that is to similar to your background.
a) Title: 150pt font and up A rule of thumb is you want to be able to see your title from about 5 meters away from you
b) Headings: 32pt font and up
c) Subheadings: 20pt font and up
d) Main Text: 16pt font
e) Captions and read more text: 12pt font and up
3. Photos: You would be surprised by how much a picture can change the entire look and overall feel of a project. A project with just textual information is unreadable and will not retain information after all if you were just going to put a poster board full of text you could have used a booklet.
What your going to need
A poster board, poster board size of 36″ by 48″
Paper to print out information or images
Color paper to possibly use as a nice background for your information and to highlight things
Adhesives such as glue sticks
Color markers to highlight certain information
Possibly stencils to highlight titles